Inspiration - Anthropologie's Scribbled Bouquet cardigan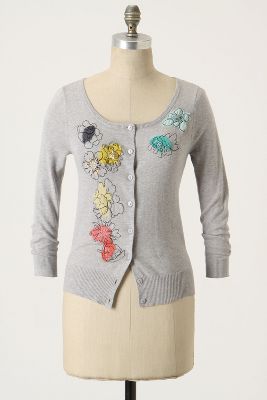 Anthropologie's version

I have to admit, this sweater gave me fits!! Not really because it is such a complicated design - it had more to do with my own inability to work my sewing machine.

First off, I sewed about 5 stitches and realized I was going to have to stop and stabilize the back of the knit fabric if this was going to work. I used some scraps of quilting foundation fabric and secured it to the back side of the cardigan with quilt basting spray. I thought about using fusible web but don't like the stiffness this often creates.

Then my thread kept breaking every few stitches. Turns out I just had the thread tension on my machine set too tight. Once this was fixed, this was actually a very easy process. I started with a thrifted grey cardigan ($2). I "scribbled" on some flowers with my free motion quilting foot, using black thread. The little colored bits are random bits of light-weight fabric - some cotton, some mystery blends. After the flowers were sewn on, I trimmed the excess foundation material from the back side - and voila - new cardigan. I actually really like how this one turned out and am thinking I may use this process for some more refashions.