I ♥ Anthropologie. I could drop some serious cash in that store (in all reality though that would never happen since I'm too frugal/thrifty/cheap to spend that much money on something I think I could make myself). But I do love their style. I saw this sweater on their website the other day: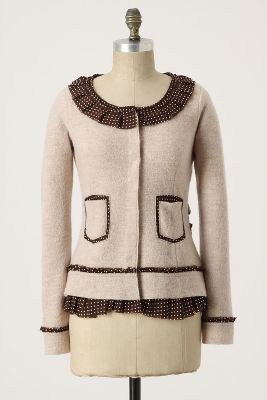 Anthropologie Au Fait Sweater
So cute, and as with many of their items, I thought, "I could do that", or at least a version of that. Oftentimes my refashions don't turn out quite as I planned and that goes for this sweater as well. I started out with this thrift store plain white sweater ($3):

And here's the finished result:
This refashion was really just about adding the details - a pleated collar, pockets, ruffle at the bottom, and little ruffles on the sleeves. The nice thing about it, was that I left all of the edges of the polka dot fabric unfinished - left to fray. And we're just going to pretend that the off-setting of the zipper was intentional (it wasn't). When I added the collar on, it pulled the zipper off to the side. But I decided that I actually kind of liked it that way. Like I said, my projects just don't always go as planned!