So I'm a little bit obsessed with Anthropologie right now. They just have so many cute things - but I'm really loving all of their embellished cardigans. And lucky for me, my favorite thrift store had a big sale the other day and I stocked up on re-fashioning supplies - including lots of cardigans - all for around $1. So, hope you all aren't getting sick of cardigan refashions yet!!!
I love Anthropologie's First Pick Cardi.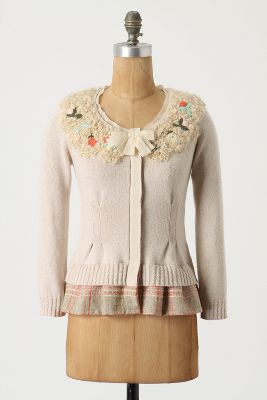 And it didn't look too hard to re-create. I started with a plain white sweater and some boucle yarn.
Forgot to take a before picture of the sweater - as you can see it was just a plain white sweater. But not a cardigan - so the first thing I had to do was turn it into a cardigan, using the same procedure as
here
. It's pinned and ready to sew down in the above picture.
I used some light weight ribbon to cover the raw edge this time because it was all I had on hand in the right color.
Then I started working on the yarn collar. I crocheted a long chain and 1 row of double crochets using an extra large crochet hook (I used an L hook).
Here's what my yarn chain looked like.
I pinned the yarn in place on my sweater and hand-stitched it on. The hand-stitching actually goes pretty quick. You really just have to tack it down and you don't have to be too particular with your stitches because they will disappear into the yarn. Then I did a little hand-embroidery over the yarn. As I've said before, my embroidery skills are limited so this was "interesting". But I managed to come up with something that looked fairly similar to the inspiration piece. I also attached a little ribbon to tie it together and some mismatched buttons along the front. And here's the finished cardi:
I had some left-over crochet chain which I used to refashion another sweater - more on this tomorrow.
And just for fun I had to post a picture of this thing that we got from our
CSA
last night.
Now we've gotten some interesting things from our CSA, some things that I didn't quite know what to do with, but this has to be by far the most perplexing. It's HUGE, green, oddly-shaped, and covered with little bumpy knobs!! I'm assuming it's some kind of squash - other than that, no idea.