Really, probably wishful thinking on my part that I will be wearing this top anytime soon - as I woke up to
snow
yesterday morning! But I can't wait until I can wear it - flowy, airy, cool - perfect for warm spring days.
This refashion is just a take on the original skirt to top refashion that I did a while back. If you want to try this, read through
this original post
first for basic instructions.
For the spring version, I started with this thrifted floral print skirt - some sort of light-weight fabric with a lining:
This skirt was too long to just use as is, and the waist was too small to fit right at my hips, so it required a little tweaking. I cut the waist off right at the bottom of the zipper:
The lining then slipped right out - I won't be using it for this project. I double folded the cut end to make a casing and inserted elastic. This end is now the bottom of your top. Then just follow instructions for the original - sew your bottom seam (now your top) shut leaving an opening for your head and cut arm holes along the side.
since the fabric is so sheer I will be pairing this with a black tank underneath
Then I was browsing around Anthropologie the other day and found this top in their new spring stuff: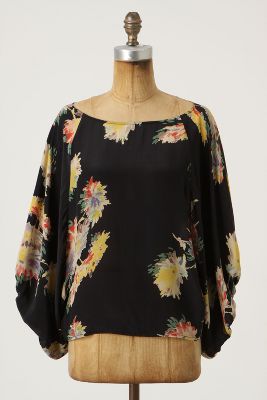 Anthropologie - $118
Very similar - and I didn't even do it on purpose this time - I had made my top before I even saw the Anthro one!!!