Wondering what 30 Days for 30 Dollars is?? Read all about it
here
.
When I say Anthropologie -inspired, I truly do mean "inspired" as my cardigan is done a little different from the original.
My version, total cost $1:
And the Anthro version $128: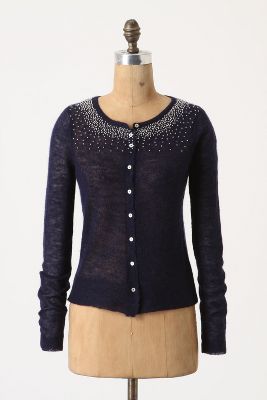 The Anthro version is actually beaded. To make mine, I used a thrift store plain cardigan - $1 - and added lots of tiny french knots (
good photo tutorial here
) using white embroidery thread that I had on hand.
Day 4
: $1.00 An Artsy Bangle
Day 7
: $.75 Button Necklace
Day 9
: $2.00 Faux Depression Glass Fruit Bowl
Day 10: $1.00 Anthropologie Inspired Cardigan
___________
Total: $9.65