Wondering what 30 Days for 30 Dollars is?? Read all about it
here
.
Wow - day 14!! I'm almost half-way there. Today I have my version of Anthropologie's Brushed Lace Cardigan
Total cost: $2
My inspiration: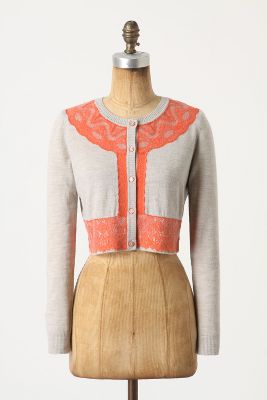 Anthropologie's Brushed Lace Cardigan - $128
I loved the coral lace on this sweater. But how could I create it on a budget? A quick search on my friend Google and I found
this tutorial on dying lace trim with acrylic paint.
I had plenty of white lace on hand, and acrylic paint is super cheap (around $1 for a bottle) - so I decided to give it a try, although I have to say I had my doubts about whether this would work or not.
I bought coral acrylic craft paint and then picked some lace out of my stash:
Before
After
I followed the tutorial except, after reading through the comments, I noticed someone recommended heat setting the color with an iron - so I did. And it worked like a charm. I ran the lace under hot water to check color fastness and there was no running at all.
I found this cropped cardigan at the thrift store for $1 - unfortunately I couldn't find a grey one so this would have to do.
Then I pinned my lace onto my cardigan and sewed in place:
Day 4
: $1.00 An Artsy Bangle
Day 7
: $.75 Button Necklace
Day 9
: $2.00 Faux Depression Glass Fruit Bowl
Day 10
: $1.00 Anthropologie Inspired Cardigan
Day 12
: $1.25 Puzzle Piece Pendants
Day 13
: $1.00 Linen Napkins
Day 14: $2.00 Anthropologie Inspired Cardigan
___________

Total: $13.90