Wondering what 30 Days for 30 Dollars is?? Read all about it
here
.
I don't know if all craft-y/sew-y people do this . . . but I tend to hoard buttons. I don't honestly know where they all come from. I know some come from thrift stores, I cut them off of old clothing, and I
always
save the little extra buttons that come with new clothes. But that still doesn't truly account for the amount of buttons that I have.
So today I'm putting those buttons to good use!
A button necklace
Total cost today - 75 cents
For this project I pulled out an assortment of buttons and some crochet thread that I had on hand . . .
. . . a necklace clasp, salvaged from an old broken necklace . . .
. . . and I purchased some of these from Hobby Lobby . . .
50% off sale made these approximately 75 cents for a pack of 16 (I only used 6)
This project is very easy and requires only very basic crochet skills. Really, the only stitch you're using is a chain stitch (
good photo tutorial here
).
Step 1:
String 1/3 of your buttons onto your spool of thread/yarn
Step 2:
Chain 40,leaving an 8-10 inch tail. Then pull a button up from the spool and chain it on. Chain 1-3 stitches between each button. After the last button (of the 1/3 that you threaded on the yarn) has been added on, chain 40, and tie off, leaving an 8-10 inch tail.
It will look like this
Step 3:
Repeat this process 2 more times - only chain 35 at the start and finish for the second batch, and 30 at the start and finish for the third batch.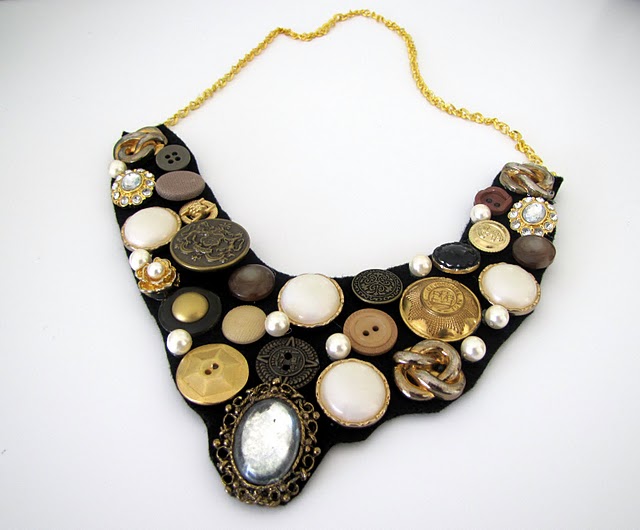 or simply glue them on to a felt backing for a bib-style necklace - from
Little Miss Momma
Day 4
: $1.00 An Artsy Bangle
Day 7: $.75 Button Necklace
___________
Total: $6.25