Wondering what 30 Days for 30 Dollars is?? Read all about it
here
.
I originally saw this idea . . .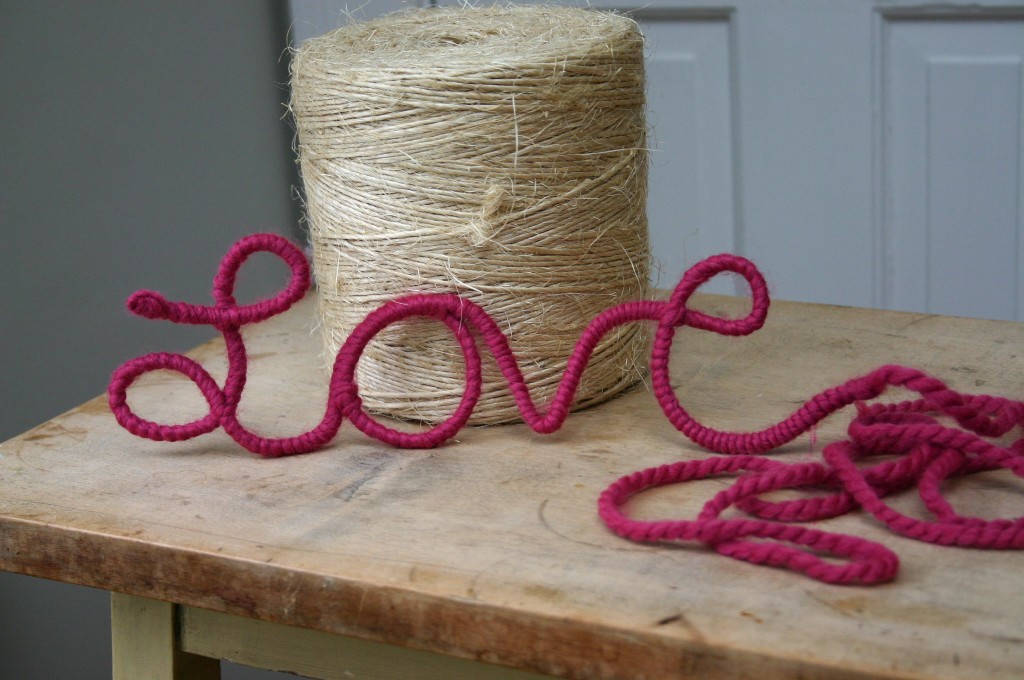 . . . on
Family Chic
blog.
I decided to give it a try:
With some clothesline found at the thrift store -$1.25 (the yarn I already had)
Here's what I learned:
a.) The lettering will be pretty flopsy until you wrap the yarn around it - the yarn will stabilize it and hold it together
b.) Unless you want to spend the rest of your life wrapping yarn around wire, use really chunky yarn or double/triple/quadruple your strands of yarn. I ended up quadrupling mine and it went pretty quickly.
Total spent today: $1.25
Day 4
: $1.00 An Artsy Bangle
Day 7
: $.75 Button Necklace
Day 9
: $2.00 Faux Depression Glass Fruit Bowl
Day 10
: $1.00 Anthropologie Inspired Cardigan
Day 12
: $1.25 Puzzle Piece Pendants
Day 13
: $1.00 Linen Napkins
Day 14
: $2.00 Anthropologie Inspired Cardigan
Da:y 15:
$.50 Scrabble Tile Ornaments
Day 16:
Free Scribble Stitch Gift Tags
Day 17:
$.50 Inexpensive Artwork
Day 18
: $1.00 Giant Snowflakes
Day 19:
$2.00 Vintage Tool Tray Centerpiece
Day 20:
$1.00 Dress to Apron
Day 21
: Free Tonal Chain Earrings
Day 22:
$1.00 Modern Art Vase
Day 23:
$.50 Doily Pocket Cardigan
Day 24:
$1.30 Found Object Magnets
Day 25:
$.50 Magnetic Memo Board
Day 26:
$1.00 A Christmas Wreath
Day 27:
$2.00 A Bracelet Tree
Day 28:
$1.00 Embroidery Pendants
Day 29: $1.25 Yarn Wrapped Writing
___________

Total: $27.45